*** FontNuke Mountain Lion update now available! ***
A FREE tool for removing font cache files on Mac OS X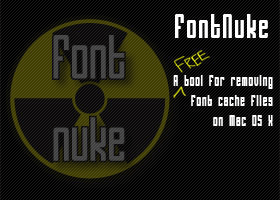 Mac OS X. Fonts. Font Caches. ERRR! Having the aforementioned as part of my daily grind, enough is enough and frustration sets in! So I made a tool to make my life easier.

Solution? FontNuke.

FontNuke is a free utility application for Mac OS X 10.4.x+ (Tiger, Leopard, Snow Leopard, Lion, Mountain Lion) that removes corrupt and troublesome font cache files. I created this application as a tool for my personal use at the office, and has become very useful for me. To grant individual non-admin users the ability to remove font cache files, without my involvement--is HUGE! Not to mention intelligent application quitting, plus a GUARANTEED reboot, makes my life easier. FontNuke removes system font caches (Mac OS X font cache files), Adobe font caches (*.lst), Microsoft Office font caches, and now also (as of version 1.1.9) ALL versions of QuarkXPress font cache files.

I formerly had shell scripts installed on my clients, and would log in via SSH, then execute my cache removal script each and every time the clients had a font issue. That gets old fast, so rather than continue to work that way, I assembled FontNuke.

I made this application for myself, and I'm just posting it here to share. On top of the fact I like free things, so hey...why not keep it free! If FontNuke is useful to anyone else, please--help yourself. I take no responsibility for any products of misuse.

FontNuke has been an indispensible tool for me. Especially as a sysadmin with non-admin users experiencing font cache issues. Empowering users with tools to remain productive is what I'm all about.

I have recently added an option which purges spotlight indexes on startup volume from /.Spotlight-V100. This has been added due to some intermittent unresponsiveness when searching network volumes for some of my MCX clients.

NOTE: Please use this feature (Reset Spotlight) with caution. This feature will purge all Spotlight indexes without a forced rebuild. This is recommended ONLY if you understand fully the contents of /.Spotlight-V100. Volume re-indexing may take minutes to several hours.

Questions? Visit the NEW: FontNuke FAQ


System Requirements
Mac OS X Tiger 10.4.x - Mac OS X Lion 10.8.x
Download
Release Notes
1.1.9 (08-07-2012)
Added support for Mac OS X Mountain Lion (v10.8).
Significantly improved performance and speed, roughly twice as fast as previous versions.
Added and improved removal of QuarkXPress font caches for all versions. Now any and all versions of QuarkXPress installed on a system will have its font caches located and purged.
Added a "Force Deep Traversal" option. This option forces the identification of additional font caches in uncommon areas and areas ignored by Spotlight.
Improved warnings.
Improved logging.
Release Notes History
To Do
Explore an integrated runtime during Login/Logout.
Improve dynamic font cache locating to better gather font cache files on systems with multiple versions of QuarkXPress 6/7/8 and/or QuarkXPress Passport. Currently limited to standard installations of QuarkXPress 6/7. (added full QXP support in v1.1.9)
Improve performance and responsiveness when a large quantity of font cache files are present on the system. (significant improvements again in v1.1.9)
Improve efficiency of font cache removal when using Admin-Free mode. Current security mechanism is sluggish when a large quantity of font cache files are present on a system.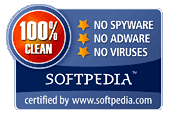 Keywords
mac os x, font, font cache, fonts, corrupt, cache, temporary, scrambled, damaged, garbled, suitcase, quark, adobe, office, word, font book